Release arrested Filipino peasant leaders and rights advocates, stop the attacks in the Philippines
Statement
November 2, 2019
We express our solidarity with fellow land and people's rights advocates in the Philippines in urging the government to immediately release and stop the persecution of 57 community leaders arrested by local police and military. We strongly condemn as a blatant violation of human rights the mass arrests of activists, including peasant leaders as well as several minors, carried out by Philippine state forces.
Last October 31, the military and police raided the offices of Filipino organizations that promote the rights of rural communities to land and resources. The simultaneous raids happened in the province of Negros Occidental (around 710 kilometers south of Manila), a longtime hotspot of agrarian disputes in the country.
Among those arrested were leaders and members of the Kilusang Magbubukid ng Pilipinas (Peasant Movement of the Philippines or KMP) and the National Federation of Sugar Workers (NFSW). These groups have been vigorously campaigning to dismantle landlord and corporate monopoly over vast tracts of agricultural lands in Negros. They demand land distribution in favor of landless farmers and farmworkers.
For their work, they were routinely vilified and tagged as members of the Communist Party of the Philippines (CPP) and its armed wing New People's Army (NPA) to justify the violent attacks against them.
We note that the recent arrests came amid a reign of terror and impunity gripping the Philippines, especially Negros. There is an obvious campaign that systematically targets groups critical of government policies, including on rural development and agrarian reform. These include the use of court-issued search warrants along with the alleged planting of firearms and explosives as evidence to legitimize police and military operations.
Recovered for instance during the Negros mass arrests were several firearms and grenades, which the victims supposedly kept in their offices. The offices were also allegedly used to train armed insurgents. We find these claims absurd, to say the least, as these offices are too public to be used for such activities. It is also hard to ignore how the same modus operandi is present in all police and military operations in Negros and elsewhere in the country that led to the arrests and even killings of activists.
There is clearly a methodical scheme to attack legitimate farmers' organizations and land rights defenders. The apparent reason is the counterinsurgency campaign of the Philippine government against armed revolutionaries that for five decades have supported the struggle of land-starved and impoverished rural communities.
We respectfully remind the Philippine government to spare unarmed civilians and to show due regard for their human rights. We join the calls to find a peaceful resolution to the armed conflict by addressing what fuels it in the Philippine countryside – the abject landlessness and poverty of rural peoples. Resorting to trumped up charges and mass arrests and extrajudicial killings will only further aggravate social unrest. From Asia to Latin America, we saw how state violence and repression failed to end civil wars and actually prolonged them.
We support the calls to immediately release and stop the harassment of the arrested activists who have long helped advance our campaign against land grabbing and land-related human rights violations in the Philippines and the region. They are vulnerable enough to violence without legal persecution making it even more daunting for them to work unencumbered by fear for their life. The government crackdown on them serves only to subdue the sectors they help mobilize against everyday injustices.
The above statement is endorsed by the following organizations:
PAN Asia Pacific (PANAP)
Asia Pacific Forum on Women, Law and Development (APWLD)
Asia Pacific Research Network (APRN)
Asian Peasant Coalition (APC)
Asian Rural Women's Coalition (ARWC)
Coalition of Agricultural Workers International (CAWI)
European Network for Justice and Peace in the Philippines
GRAIN
Youth for Food Sovereignty (YFS)
Aliansi Gerakan Reforma Agraria (AGRA), Indonesia
ALGA: Rural Women's Association, Kyrgyzstan
Andhra Pradesh Vyavsaya Vruthidarula Union (APVVU), India
Badabon Sangho, Bangladesh
Cambodian Youth Network (CYN), Cambodia
Caritas Nepal, Nepal
Centre for Human Rights and Development (CHRD), Mongolia
Centre for Sustainable Rural Development (SRD), Vietnam
Coalition of Cambodian Farmer Community (CCFC), Cambodia
Community Care for Emergency Response and Rehabilitation (CCERR), Myanmar
Ethnic Concern (EC), Myanmar
Farmer Affairs Network (FAN), Myanmar
Feminist League, Kazakhstan
Front Mahasiswa Nasional (FMN), Indonesia
Gendev Centre for Research and Innovation, India
Institute for National and Democracy Studies (INDIES), Indonesia
Intal Globalize Solidarity, Belgium
Karnataka Vyavsaya Vruthidarula Union (KVVU), India
Kilusang Magbubukid ng Pilipinas (KMP), Philippines
National Agricultural Workers Forum (NAWF), India
National Campaign for Diversity and Harmony (NCDH), India
National Centre for Labour (NCL), India
National Fisheries Solidarity Movement (NAFSO), Sri Lanka
National Indigenous Women Forum, Nepal
North South Initiative (NSI), Malaysia
Pakistan Kissan Mazdoor Tehreek (PKMT), Pakistan
Pemuda Baru Indonesia (Pembaru), Indonesia
People's Democracy Movement of Thailand (PDMT), Thailand
Ponlok Khmer (PKH), Cambodia
Praja Abhilasha Network, Sri Lanka
Public Foundation JIPAR, Kyrgyzstan
RITES (Regional Initiative for Tribal Empowerment and Solidarity) Forum, India
Roots for Equity (RFE), Pakistan
Rural Women Liberation Movement (RWLM), India
Rural Workers' Movement (RWM), India
Sabokohan Lumad Women, Philippines
Sangsan Anakot Yawachon Development Project, Thailand
Serikat Perimpuan Indonesia (SERUNI), Indonesia
Sisterhood Network, India
Society for Rural Education and Development (SRED), India
Society for the Rights of Indigenous Peoples of Sarawak (SCRIPS), Malaysia
Southern Peasants' Federation of Thailand (SPFT), Thailand
State Alliance of People Movement (SAPM), India
Struggle to Economize the Future Development (SEFE), Cameroon
Tamil Nadu Dalit Women's Movement (TNDWM), India
Tamil Nadu Women Farmers Rights Front (TWFRF), India
Tamil Nadu Women's Forum (TNWF), India
Telengana Vyavsaya Vruthidarula Union (TVVU), India
Women Coalition for Change (WCC), India
Zambia Social Forum (ZAMSOF), Zambia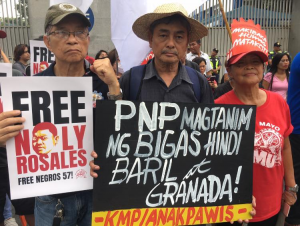 Stop the attacks in the Philippines!